Bus Bombed In Tel Aviv, Gaza Ceasefire Talks Derailed
MA'AN (Palestinian Territories), CHANNEL 10 (Israel), THE NEW YORK TIMES (U.S.)
TEL AVIV - Militants detonated a bomb on a public bus in Tel Aviv on Wednesday, an attack likely to derail the ceasefire talks on the eighth day of the Israeli-Hamas conflict.
Israeli Channel 10 reports that 17 people were slightly or moderately injured in the attack around midday Wednesday.
Reports suggest that Hamas, the militant Islamist organization that controls Gaza, has claimed responsibility for the attack. Hamas broadcasted the news over mosque loudspeakers in Gaza, announcing that militants in the Qassam Brigades were involved.
Israeli police set up temporary checkpoints around the site, and have now reportedly apprehended one suspected terrorist.
Channel 10 cites eyewitnesses as saying there were two attackers who placed the bomb and fled. Israeli police have confirmed there are no other bomb devices on the bus.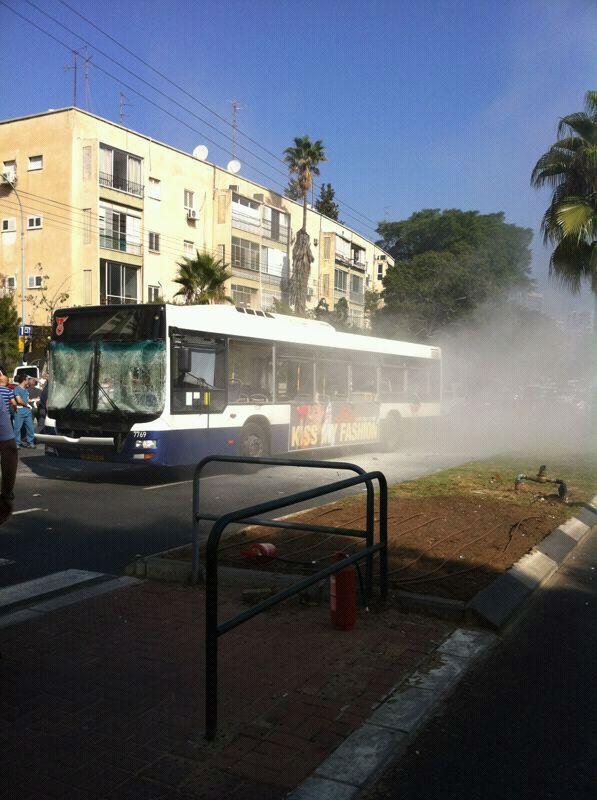 @chaimlevinson via Twitter
Palestinian Ma'an news agency reports that celebratory gunfire rang out in Gaza City, in response to the news.
The last time a serious bomb blast hit Tel Aviv was April 2006, when a Palestinian suicide bomber killed 11 people outside the city's central bus station.
If bus explosion confirmed asattack in Tel Aviv could be a game changer. #Gaza #Israel

— Jon Donnison (@JonDonnison) November 21, 2012
Officials from Israel and Hamas struggled to agree on a proposed ceasefire settlement Tuesday night, with foreign diplomats urging the Israel Defense Forces to back down on their threat of a ground invasion.
U.S. Secretary of State Hillary Clinton arrived in the Middle East on Tuesday in efforts to accelerate negotiations. Clinton told the New York Times of the need for "a durable outcome that promotes regional stability and advances the security and legitimate aspirations of Israelis and Palestinians alike."
Clinton faces yet another busy schedule Wednesday, holding meetings with UN Secretary General Ban Ki-moon, Israeli Prime Minister Benjamin Netanyahu and Egyptian President Mohamed Morsi, who is leading the ceasefire discussions.
Before meeting with Clinton on Tuesday, Benjamin Netanyahu said: "If there is a possibility of achieving a long-term solution to this problem through diplomatic means, we prefer that.
"But if not, I'm sure you understand that Israel will have to take whatever actions necessary to defend its people," he said.
Air strikes and rocket fire continued into Wednesday. Five Israelis and more than 140 Palestinians, around half of whom were civilians, have been killed since the violence began eight days ago.
Load More Stories